Ya Allah ya tuhanku,
Tidakku dinafikan bahwa Engkaulah yg maha kuasa,
Tidakku dinafikan Engkaulah yg menciptakan langit dan alam semesta,
Dan tidak juga ku nafikan Engkaulah yg maha esa..

Ya Allah ya tuhanku,
Engkaulah yg maha pencipta,
Engkaulah yg menentukan qada qadar manusia,
Engkau lebih mengetahui apa yg aku tidak tahu,
Dan tetapkan daku agar beriman dengan segala ketentuanMu

Allahumma Rabbi,
Apakah diriku ini insan yg terhina,
Apakah diriku ini insan yg alpa,
Apakah diriku ini insan yg telah termaktub namanya di pintu neraka.
Namun tidak sanggupku untuk,
Ke nerakaMu Ya rahman.

Memang ternyata diriku hambaMu yg lemah,
Terpesong kearah jalan yg penuh dosa dan maksiat,
Kegelapan yg tidak ada walaupun secercah cahaya,
Setiap langkah hanya tersungkur kepada lembah Dosa.

Namun tidak daku berhenti berusaha,
Mencari sinaran cahaya mutiaraMu,
Di taman yg Dunia yang berduri,
Serta penuh dengan hewan berbisa,

Daku bersyukur padaMu Ya Rahman,
Ku temui sinar Cahaya yg berkilau,
Terpancar ke wajah dan qalbuku,
Yg lama telah buta di alam kegelapan.

Walaupun hanya sedikit secercah cahaya,
nyala Lampu cahaya,
yang mampu mengubah langkahku,
Dari merangkak jadi berdiri,
Dari berdiri jadi berjalan,
Dari berjalan sampai berlari kepadaMu..

Namun,
Daku diuji kembali,
Cahaya yg datang kian pergi jauh,
Apakah karena dosaku Ya Rahman,
Ataukah karna lukaku lagi Ya Rahim..
Maka Terbuktilah diriku hambaMu yg lemah.

Daku berdoa padaMu Ya Allah,
Moga dikurniakan kekuatan dan kesabaran,
Agar ridha dengan segala ujian,
Menempuh hidup di alam Cobaan,
Daku berserah diri dengan ketentuanMu,
Daku percaya ada hikmah yg akan berlaku,
Menguji keimanan di qalbuku,
Sesungguhnya engkau senantiasa disisiku..

Semoga ujian ini mengajari daku,
Bahwa teman ujian ini akan membantu,
menghadap KepadaMu,
Untuk mencari hidayah dan keredhan dariMu,
Dan mengajari daku tentang Kasih sayangMu,
hanyalah padaMu Daku kembali..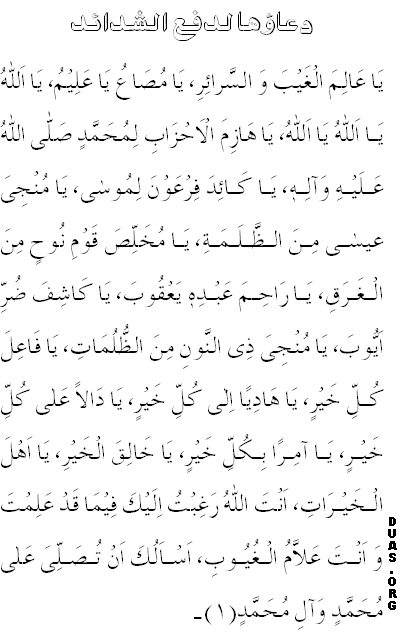 Bismilla hir rahma nir Rahim



O Knower of the unseen and the secrets

O the all-Knowing

O Allah, O Allah, O Allah

O One who defeated the allies for Muhammad

blessings of Allah be on him and his family

O One who plotted against Firaun for Musa (a)

O One who saved Isa (a) from darkness

O One who saved the people of Nuh (a) from drowning

O One who was merciful to His servant Ya'qub

O One who removed the distress from Ayyub

O One who saved Yunus form the darkness



O One who does all good

O One who guides towards all good

O One who shows all that is good

O One who orders towards all good

O One who created good

O One who possesses all good



You are Allah

I hope from You all that You already know

and You are the Knower of the unseen

I beseech You to bless Muhammad and his family . . .